Is There a Good Janitorial Service in Richmond?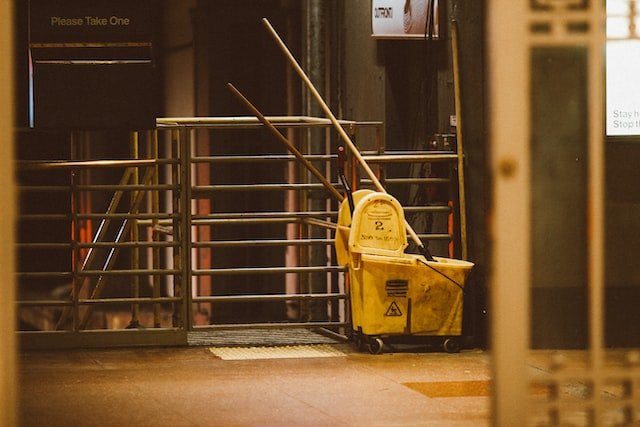 Yes, there is, and it is us! If your commercial space is looking a bit grimy and cluttered after a day's work, it might be time to consider hiring a janitorial service. A janitorial service can help re-invent the atmosphere of your workspace to create a more open, airy, and clean environment for you and your employees. Not only will this improve employee morale and productivity, but it can also make your office look more inviting to clients and potential clients.
What is a Janitorial Cleaning Service?
Janitorial cleaning services are good for regular maintenance of commercial spaces and professional corporate settings or offices, including financial institutions, medical facilities, and factory offices. These service providers are called janitors, cleaners, or custodians.
One of the benefits of a janitorial service is the hours they work. The cleaning is typically done after hours when the office is not filled with staff and customer activity. These services typically include cleaning floors, bathrooms, and kitchens; taking out the trash; and dusting surfaces. In some cases, janitorial services also include window-washing and carpet shampooing.
Why Choose a Janitorial Service?
For a continually healthy, tidy, and well-maintained workspace, a janitorial company is the right choice. You need to focus on your business and not on cleaning up after yourself, especially after a long day of work. Walk into an inviting office in the morning so you can get right to work. A janitorial service will perform everyday cleaning duties such as sweeping, mopping, dusting, and vacuuming, as well as Restroom cleaning and trash removal. This will help to create a healthy and productive work environment for you and your employees. When a company hires a janitorial cleaning service, that company will be responsible for putting together the schedule and specifying the cleaning tasks to ensure that the job is completed satisfactorily. Cleaning4U is especially good at specific and unique cleaning tasks. We'll walk through it with you so you can establish an appropriate cleaning schedule and ensure that all necessary tasks are identified.
When to Choose a Janitorial Service?
If you notice everyday wear and tear on your office space, hire a janitorial service. A janitorial service is typically hired by a company or individual to do regular, ongoing upkeep of an area or facility. This usually involves small tasks such as sweeping, mopping, dusting, vacuuming, and polishing surfaces. You may need more detailed tasks, like windows, restroom fixtures, trash and the like. It is geared toward maintaining space and controlling the daily messes.
Cleaning4U is Your Best Cleaning Service in Richmond
Contact Cleaning4U for a fast, reliable, and thorough janitorial cleaning service experience in Richmond. Our janitorial cleaning service is designed to provide excellent results by employing advanced techniques and materials tailored to meet your unique needs. Our staff is highly trained in providing superior cleanliness and exceptional customer service. We take pride in our attention to detail and use only the most effective eco-friendly products and equipment.