Cleaning Company West Vancouver
CLEANING SERVICES WEST VANCOUVER
Whether you own or rent your property in West Vancouver, keeping it clean and germ-free is important for your health and the health of your family, clients and employees. If you are looking for a trusted cleaning service that has your interest and well-being in mind, we have a customized solution for your unique cleaning requirements.
We use the latest equipment and cleaning methods in combination with our highly skilled, trained, bonded and insured team. A great way to show Cleaning4U's commitment to you and your space. We deliver professional service every single time, and we are proud to say that our clients notice and are completely satisfied.
We use only plant-based, eco-friendly cleaning solutions and make sure that they produce a great clean because a thorough clean doesn't have to involve toxic chemicals. Cleaning4U is all about making sure you live and work in a healthy place.
Many of our clients tell us that one of the things they appreciate is how easy we are to work with. If there is a wish list for cleaning services, one of the most important items would be maintaining sensitivity for our client's schedules. As West Vancouver's most convenient cleaning services, we cater to your schedule. We're the most conscientious cleaning company you can find. The last thing you'll get from us is disruption. Otherwise, we're just working for ourselves, and not for you. As our name reminds us of every day, we are Cleaning4U.
RESIDENTIAL AND COMMERCIAL CLEANING SERVICES
BOOK CLEANING SERVICES WEST VANCOUVER
RESIDENTIAL CLEANING WEST VANCOUVER
Cleaning your home is when Cleaning4U truly lives up to our name. Our people are the most important aspect of our company and our service. You can feel safe and comfortable leaving your property in our professional hands. You can head out and spend your extra time doing things you would prefer to do and come home to a clean and germ-free home. We hire only honest, hard-working team members with great backgrounds.
You may be initially interested in our dedication to eco-friendly cleaning products, but we think that you'll stay with our service because of our dedication to consistency and service. Our service is guaranteed to please. This means that if for any reason you are not completely satisfied with our work, contact us immediately and we'll come back and make it right.
We are Cleaning4U. We make sure your needs are met. Tell us what your unique needs are, and we'll tailor our service to satisfy them. Your cleaning service should be as unique as your cleaning needs.
COMMERCIAL CLEANING WEST VANCOUVER
Cleaning4U will make sure that all of your surfaces exposed to either food or human contact are spotless and germ-free, from restrooms to lunchrooms and kitchens. We have years of experience cleaning a wide variety of commercial properties including hospitals, churches, schools, and office buildings. Cleaning4U is the most reliable and least disruptive cleaning service in West Vancouver.
It's just good business to be consistent and provide services that can be counted on. We share these values. That is why we believe that our service is perfect for your business.
Your satisfaction is the measure of our success. We'll show up when it is most convenient and clean specifically to your unique and specific needs, no matter the type of facility. Our highly trained team will use only the latest most advanced cleaning methods and make sure you are completely satisfied.
With Cleaning4U, you never have to worry about your health and safety, or that of your employees and clients. Our cleaning products and materials are recyclable, eco-friendly, and completely safe, and our cleaning methods are thorough.
Our relationships with our customers are the reasons for our success. We take this part of it personally. We are always transparent and prefer open communication. We are always available and approachable. There may be some occasions where we may not be able to answer the minute you call. When this happens, we'll get back to you within 2 hours.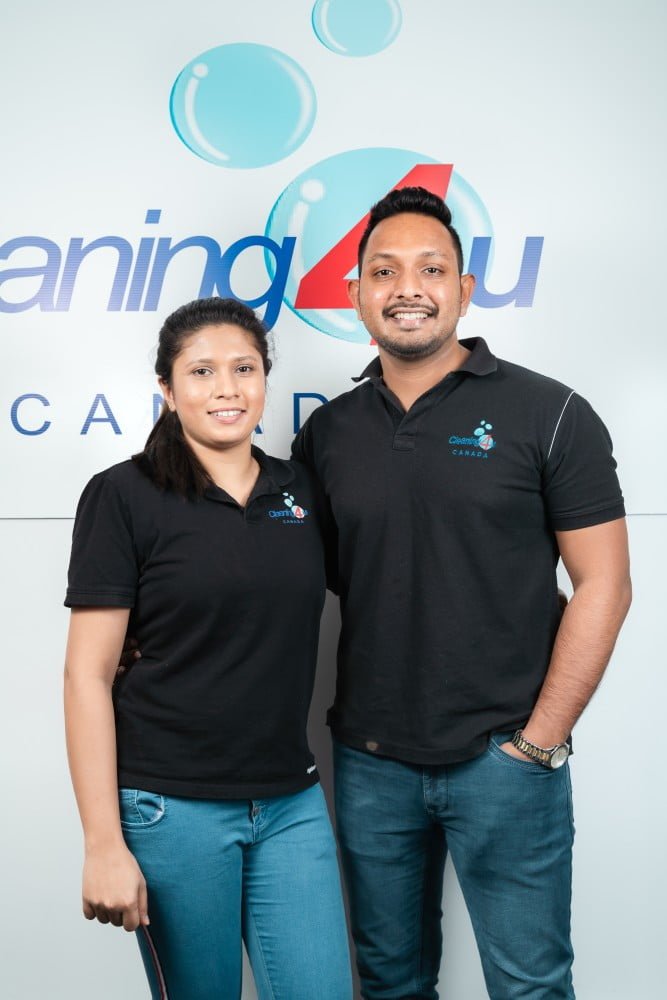 1000+
Cleaning services in the Greater Vancouver Area
4.7/5
Average Review from our awesome customers
What are our clients saying about us:
Great service, the team were very punctual arriving before scheduled time. Very friendly and did an amazing job! Also very accommodating as I forgot to book in for the stairs to be cleaned and Sean was able to fit me in for the same day. I would definitely recommend this company. Very good value as well. I couldnt find a cheaper rate in all of Vancouver for the cleaning service we got done.
I have worked with Sean, the owner, through business before multiple times in the past. I have enjoyed working with him and now recently I used his company to clean the apartment I was leaving. I cannot speak more highly of his service and company. They did a great job and would recommend them to anyone.
We recommend Sean and the Cleaning4u team! We had them come and do a move out clean for us and we are very happy with their service! I found them online from reviews and they fully cleaned our condo, appliances and washed the carpets! It was nice dealing with only one company for that, especially since we were crunched for time and days before our move. Reasonable price and friendly team. We would highly recommend Cleaning4u! Thanks so much guys!
We've been so happy with the quality of all the cleaning4u cleaning crews we've had over the years. We had tried a number of other services in the past but cleaning4u is the most affordable and reliable around. I recommend this company wholeheartedly!
RESIDENTIAL AND COMMERCIAL CLEANING SERVICES