PROFESSIONAL CLEANING COMPANY
CLEANING4U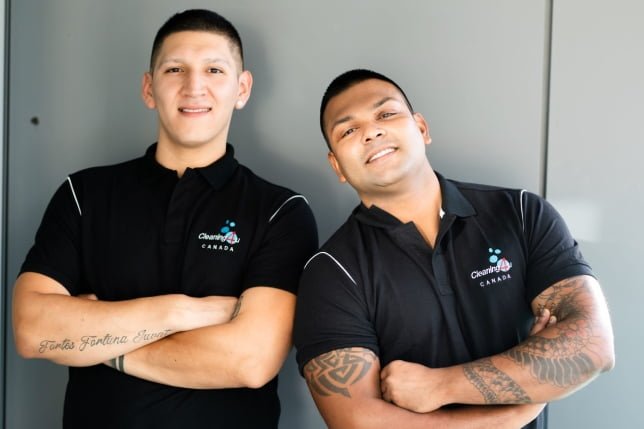 CO-FOUNDER – SEAN
Hi, I'm Sean, co-founder of Cleaning4U. Javier and I founded the company in 2016. We started our business shortly after a bad experience with another cleaning company.
The experience was a huge headache which included an inefficient cleaning process with visible dirty spots, cleaners not arriving on time, and unreported broken dishware after the dishes were washed and an unclean sink.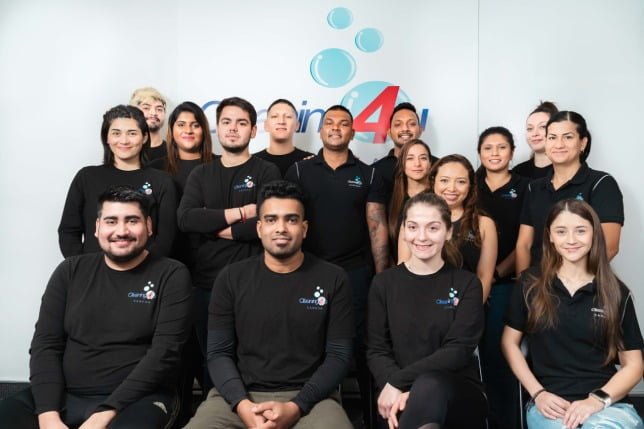 We came home initially to see the cleaners climbing on top of unsafe areas to stand which could injure the cleaner or damage things in the home. This was clearly a missed safety precaution when it comes to training of the employee. Cleaners even scratched my stovetop with their cleaning. They weren't using the proper supplies to protect surfaces. Another training concern.
I even created a checklist for them to review which the company had on file to check over themselves to make sure items were cleaned and nothing missed. I was seeing noticeable dirty spots for example, the stove top wasn't cleaned properly and floors were still dirty. We built our business based on the issues we experienced using other cleaning companies and turned it into a positive experience by providing exceptional cleaning services ourselves.
Soon, we needed to expand and hire more cleaners to keep up with the demand!
When we started it was just Javier and myself. With our newly defined procedures, we began cleaning friends of friends apartments and homes. The word kept spreading of our very thorough cleaning processes and happy customers.
Noticing the issues about training from previous companies we developed our detailed training procedures so all our team members could carry on with our cleaning checklist and knowledge of when and where to use the proper cleaning supplies and equipment and to do it with the highest standards of safety to the customers and employees.
Here we are today with fleets of vehicles and service in multiple cities continuing our journey to help change the cleaning industry for the best.
Quality relationships are what we feel are the most important. We'd like to get to know you!


Cleaning4U
Our goal is to help give this same experience to great people just like you. This makes us proud to create our reasons to work with us. We truly understand the value in the services we provide.
1000+
Cleaning Services in the Greater Vancouver Area
4.7/5
Average Review from our awesome customers
What are our clients saying about us:
Great service, the team were very punctual arriving before scheduled time. Very friendly and did an amazing job! Also very accommodating as I forgot to book in for the stairs to be cleaned and Sean was able to fit me in for the same day. I would definitely recommend this company. Very good value as well. I couldnt find a cheaper rate in all of Vancouver for the cleaning service we got done.
I have worked with Sean, the owner, through business before multiple times in the past. I have enjoyed working with him and now recently I used his company to clean the apartment I was leaving. I cannot speak more highly of his service and company. They did a great job and would recommend them to anyone.
We recommend Sean and the Cleaning4u team! We had them come and do a move out clean for us and we are very happy with their service! I found them online from reviews and they fully cleaned our condo, appliances and washed the carpets! It was nice dealing with only one company for that, especially since we were crunched for time and days before our move. Reasonable price and friendly team. We would highly recommend Cleaning4u! Thanks so much guys!
We've been so happy with the quality of all the cleaning4u cleaning crews we've had over the years. We had tried a number of other services in the past but cleaning4u is the most affordable and reliable around. I recommend this company wholeheartedly!
FREQUENTLY ASKED QUESTIONS
What cities do you service?
Our cleaning company is servicing the following areas:
How safe are your products?
At Cleaning4U, your children, family and pets are a priority to us, so we only use cleaning products that are 100% safe for everyone in your home. All of the products we use are green and eco-friendly, ensuring not only a spotless home, but one that smells great without using any harmful chemicals.
Do I need to be present during the cleaning?
We don't require you to be present during the cleaning. However, if you are, please do a walk-through with our cleaners before they start and after they finish to ensure everything is up to your standards.
Do you offer 100% customer satisfaction guarantee?
Of course! If you are not satisfied with the job when the cleaners are done, you have 24 hours to let us know. We will send our cleaners back your way to ensure everything is done perfectly. The 10-minute walk-through before and after the cleaning is free of charge.
What do I need to prepare before the cleaning?
Nothing! We will bring everything with us.
Do I need to lock up my pets?
Not at all, we love pets!
How do I pay for the services?
We take cash, e-transfers, and credit cards. We can also invoice you for mobile based payments.