Cleaning After Holidays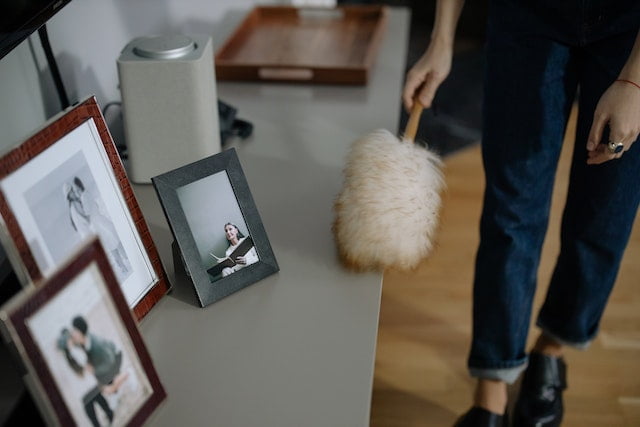 Start the Year Clean
The holidays are a time to gather family and friends together. As they come to an end, many of us look forward to beginning the year fresh.
If you've had a busy holiday of entertaining, this may be your first chance to relax… but wait. Now it is time to clean up. There is nothing like starting the year with a fresh and spotless space.
Cleaning can be a daunting task, but breaking it down can make tackling the job more manageable. Taking an organized and strategic approach to cleaning can save you time in the long run and help prevent anxiety.
Start by listing all the tasks that need to be done. Scheduling specific days or times in your calendar to complete each task is one way to ensure they'll get done.
Here Are 5 Tips You Can Use to Clean Up After the Holidays
You may find the task of cleaning your home after the holidays a bit less daunting if you have a plan. By cleaning in stages, you get a sense of accomplishment and a chance to figure out what sequence makes the most sense.
Pick-up and Declutter: This is the best place to start. You uncover the stuff that really needs cleaning, and since the holidays are a decoration season, there may be plenty to uncover. The accumulation goes beyond decoration. From food storage to trash and recycling, there is plenty to address. This is a chance to organize the Christmas presents, the decorations, new and old toys, and clothing, and generally, get ready for what comes next. Be brave enough to decide what should be given away or discarded.
Disinfect and Deep Clean: Now it's time to get down to deep cleaning and disinfecting. Once you have all your decorations put away, it's time to address those hard-to-reach areas, such as ceiling fans, light fixtures, and window blinds. Don't forget the kitchen appliances, like the refrigerator, oven, stovetop grates, dishwasher racks, and exhaust hoods or vents. Give special attention to bathrooms, too; scrub toilets, bathtubs, and/or showers.
Clean Upholstery and Furniture: After you, your family, friends, and pets have spent most of the holiday season on your chairs and couches, your upholstery gets special attention. Clean and vacuum all surfaces and treat them with deodorizers or fabric refreshers. This can help eliminate lingering smells and prevent dirt buildup from further damaging fibres.
Clean Area Rugs: Another surface that can easily accumulate stains, dirt, and odour are the area rugs. Few things are better for them than the great outdoors. On a nice, rain-free day, gently shake them out and hang them on a railing. The periodic shaking out of a rug is essential to regular maintenance and should be done at least once every few months to keep them looking their best.
Thoroughly Clean Your Carpets: Your carpet took a beating during the holidays, with long days of people inside and out, muddy shoes, parties and pets all contributing to the wear and tear on your floors. A professional carpet cleaning service is ideal for bringing new life into your home. A thorough deep clean will remove dirt and debris from within the fibres and eliminate the allergens and bacteria that have built up, as well as stubborn stains that may have accumulated from spilled drinks or pet accidents.
Whether you need house, restaurant, or office cleaning after the holiday season, we are your professional cleaning service in the Vancouver area.
Get ready for the New Year with Cleaning4U
Contact Clean4U for an unparalleled cleaning service experience in the Vancouver area. Our staff of professionals is highly trained and has extensive knowledge in providing top-notch cleanliness and customer service. We employ advanced techniques and materials to fulfill all your cleaning needs. Start the year off right by contacting Cleaning4U. We are proud of our reputation for our attention to detail and eco-friendly products and equipment.