ARE YOU LOOKING FOR CARPET CLEANING?
Whether you have a busy house filled with precious family or business space, if you have a lot of traffic and general use, you may discover that you need your space cleaned simply because it gets used a lot. But that doesn't exclude those rooms where the carpet isn't frequently used. Dust and dirt can still find their way to the inner layers of your carpet even with very little foot traffic. It can get dirty without you knowing.
Do you live in the Vancouver area? Then you should know about Cleaning4U. We know carpets. We know what to look for, we know what they need, and how often they need it.
For hassle-free carpet cleaning services, look to the experts. We specialize in floor & carpet cleaning. We think you'd be surprised by how much dirt we can remove from your carpets.
In addition to professional carpet cleaning in Vancouver, which includes spot cleaning, emergency carpet cleaning, and commercial carpet cleaning, we also provide floor cleaning, restaurant floor cleaning, grout cleaning, baseboard cleaning, upholstery cleaning, sofa cleaning, stairwell cleaning, and bedroom steaming.
RESIDENTIAL AND COMMERCIAL CLEANING SERVICES
BOOK CARPET CLEANING SERVICES
CARPET CLEANING FAQs
Carpets are one of those areas we sort of take for granted, until it becomes obvious that they need cleaning, and even then, the gradual nature of the build-up, and having to add something to our already filled list of "to do's" is challenging. So, it may surprise you to read answers to some of these common questions.
How often should I get carpets cleaned? It isn't just dirt and dust that needs to be removed, it is also allergens that can collect in your carpet even if you don't use the carpet that frequently. Still, for carpets that have infrequent use, we suggest once per year. To keep your more frequently used carpets fresh and clean, we recommend a professional cleaning every six months.
How long does it take? The time it takes to clean a carpet, of course, depends upon square footage, but on average, a normal carpet cleaning should take about 30 minutes. Thicknesses and types of carpet either shorten or extend the time required. Also, if it has been a long period since your last cleaning, or your carpet is older, this may also take a bit longer.
What is the best way to keep my carpets in good shape between cleanings? Depending upon the amount of use, you may want it vacuumed once per week. You may need more vacuuming than that depending upon the style of the rug and the amount of usage. You can either decide to do that yourself or you may want us to come in for regular maintenance vacuuming when convenient for you. Obviously the more you vacuum, the more stuff gets sucked up and the fresher smelling and fresher looking your carpets stay.
How do I remove a fresh stain? The first reaction most have to spills and their resulting stains is to wipe them. You should never do this. This action will rub it deeper into the threads of your carpet. Instead, blot the stain with a paper towel or cloth starting at the edges and work your way to the middle. Use a stain removal product, or in a pinch, some shaving cream will do the trick.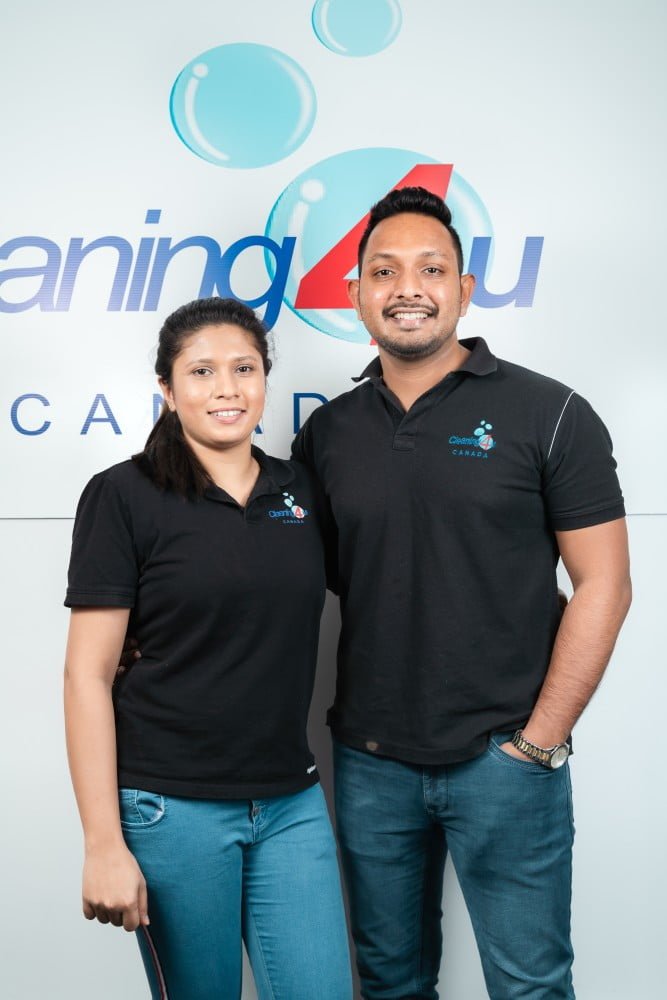 1000+
Cleaning Services in the Greater Vancouver Area
4.7/5
Average Review from our awesome customers
What are our clients saying about us:
Great service, the team were very punctual arriving before scheduled time. Very friendly and did an amazing job! Also very accommodating as I forgot to book in for the stairs to be cleaned and Sean was able to fit me in for the same day. I would definitely recommend this company. Very good value as well. I couldnt find a cheaper rate in all of Vancouver for the cleaning service we got done.
I have worked with Sean, the owner, through business before multiple times in the past. I have enjoyed working with him and now recently I used his company to clean the apartment I was leaving. I cannot speak more highly of his service and company. They did a great job and would recommend them to anyone.
We recommend Sean and the Cleaning4u team! We had them come and do a move out clean for us and we are very happy with their service! I found them online from reviews and they fully cleaned our condo, appliances and washed the carpets! It was nice dealing with only one company for that, especially since we were crunched for time and days before our move. Reasonable price and friendly team. We would highly recommend Cleaning4u! Thanks so much guys!
We've been so happy with the quality of all the cleaning4u cleaning crews we've had over the years. We had tried a number of other services in the past but cleaning4u is the most affordable and reliable around. I recommend this company wholeheartedly!
RESIDENTIAL AND COMMERCIAL CLEANING SERVICES