Cleaning4U has a customized maid service for you. We cater to your unique cleaning needs. Keeping your home clean and free of germs is important for you and your family. Our maid services are thorough and convenient.
Cleaning4U service is based on the premise that getting your home clean shouldn't require the use of toxic chemicals. Accordingly, we use only plant-based, eco-friendly cleaning solutions. The idea is for you to live in a healthy environment. We clean for you and your family. When you combine our highly skilled, highly trained, bonded, and ensured team, with the latest equipment and cleaning methods, you have the best maid service working for you.
Our service is the least disruptive in the business. We are convenient and sensitive to your schedule. We are also tuned into your needs, and we take great pride in knowing how satisfied our clients are. Our maid service team is carefully scrutinized, then trained, bonded, and insured. Our service is also backed by a guarantee.
We combine eco-friendly cleaning products, high-quality cleaning, and service that is unique to your needs while catering to your schedule. That is why we are the best maid service in the Vancouver area.
RESIDENTIAL AND COMMERCIAL CLEANING SERVICES
BOOK MAID CLEANING SERVICES VANCOUVER
WHAT MAID SERVICE INCLUDES
Our maids are Cleaning4U. We customize our service to meet your unique needs. There are also some basic maid cleaning services that are typically required:
Windows: Never let it be said that we don't do windows, we do, in fact we consider clean windows to be one of our most important jobs. If the windows aren't clean, it can make the whole room dingy looking.
Countertops: Countertops should be more than clean; they should be sanitized. If they are damaged or in disrepair, we can help you start fresh and give you advice on the best options.
Sinks: We also focus on sinks. They need to be squeaky clean and sanitized as well. Sinks are one of those areas that require close attention and extra care.
Floors: Mopping and scrubbing floors is important, but so is polishing hard floors with a protective finish. This feature is an important way to set the whole room off. A clean floor is a must.
Dusting: You can trust us to dust your valuable and fragile items, and that our skilled staff are conscientious about your valuables. Antiques and fragile family heirlooms get dusty too, so they require extra care to dust. We work closely with you to earn your trust.
Vacuuming: The key to keeping carpet cleaning to a manageable level is regular vacuuming. It minimizes the dust and dander between cleanings.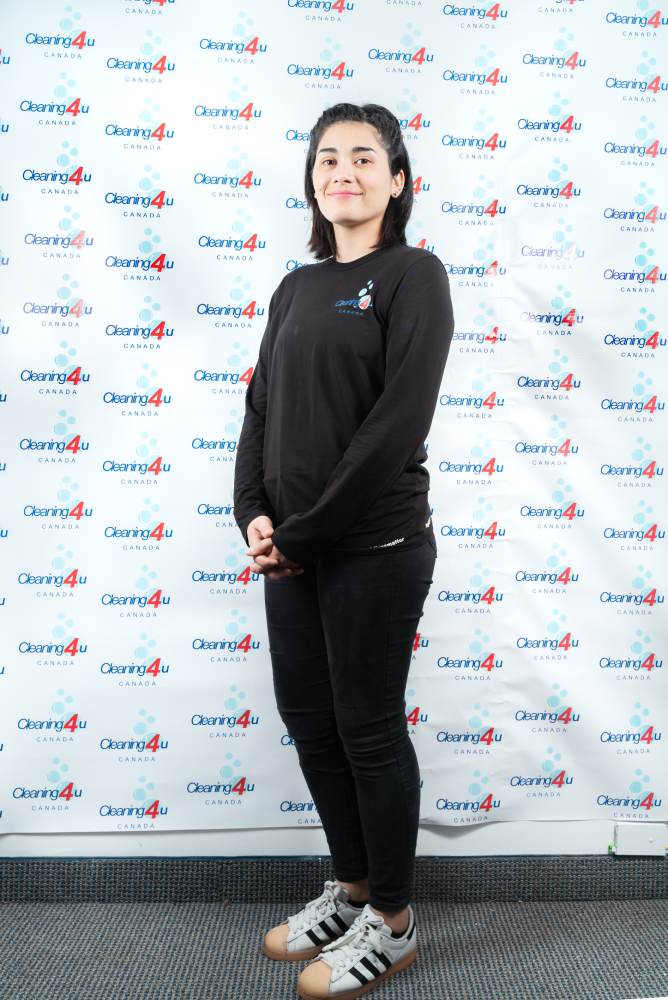 For regular cleaning and maintenance, the Cleaning4U maid service is a great way to maintain your home and keep it safe and healthy. Our maids are the reason our service stands out. Cleaning4U hires only honest people with the best backgrounds, to do an honest job, so you can feel comfortable leaving your home in our capable hands.
You may decide to give us a try because of our eco-friendly and non-toxic approach to cleaning your home, but we think that once you experience our service, you'll want to bring us back. Make sure to contact us for any reason, especially if you are anything other than satisfied. We'll come right back to make sure you are.
1000+
Cleaning Services in the Greater Vancouver Area
4.7/5
Average Review from our awesome customers
What are our clients saying about us:
Great service, the team were very punctual arriving before scheduled time. Very friendly and did an amazing job! Also very accommodating as I forgot to book in for the stairs to be cleaned and Sean was able to fit me in for the same day. I would definitely recommend this company. Very good value as well. I couldnt find a cheaper rate in all of Vancouver for the cleaning service we got done.
I have worked with Sean, the owner, through business before multiple times in the past. I have enjoyed working with him and now recently I used his company to clean the apartment I was leaving. I cannot speak more highly of his service and company. They did a great job and would recommend them to anyone.
We recommend Sean and the Cleaning4u team! We had them come and do a move out clean for us and we are very happy with their service! I found them online from reviews and they fully cleaned our condo, appliances and washed the carpets! It was nice dealing with only one company for that, especially since we were crunched for time and days before our move. Reasonable price and friendly team. We would highly recommend Cleaning4u! Thanks so much guys!
We've been so happy with the quality of all the cleaning4u cleaning crews we've had over the years. We had tried a number of other services in the past but cleaning4u is the most affordable and reliable around. I recommend this company wholeheartedly!
RESIDENTIAL AND COMMERCIAL CLEANING SERVICES