ARE LOOKING FOR FLOOR CLEANING?
Floors and carpets are our specialties. We are experienced experts at floor cleaning. Our cleaning staff always come prepared with shoe covers and an eco-friendly approach to cleaning floors, and we use only eco-friendly cleaning solutions, so there is no need to be concerned about children or pets.
We do it all, from floor waxing, baseboard cleaning, and grout cleaning, to restaurant floors and floor tile cleaning. Our professionals have a wide range of experiences.
Cleaning4U is the trusted cleaning company in Vancouver for a good reason, and this culture is carried through all types of jobs. We want you to be 100% satisfied with every job we do. If for any reason you are not 100% satisfied, you get your money back, guaranteed. Our rates are affordable and competitive, even though we exceed the performance of our competition.
RESIDENTIAL AND COMMERCIAL CLEANING SERVICES
BOOK FLOOR CLEANING SERVICES
YOUR COMMERCIAL FLOOR CLEANER IN VANCOUVER
We are very familiar with a variety of surfaces:
Marble floor cleaning: Although one might assume that a marble floor is pretty tough, it requires regular upkeep. Marble flooring is one of the more easily damaged surfaces. Particles can scratch the marble, if not regularly swept away. To prevent stains, spills must be cleaned quickly. Marble is a porous stone, so even what you choose to clean it with can prove damaging (like vinegar). If you keep your marble floor dry it will be less likely to absorb moist spills. Cleaning4U are experts at cleaning and polishing marble floors.
Hardwood floor cleaning: There are a vast array of floor types for residence or business, but most would agree that hardwood floors have universal appeal. Refinishing them or cleaning and polishing them is a challenging and complicated job. From finding the right solution to creating a beautiful finish, it can be time-consuming and expensive. Cleaning4U is the floor cleaning expert in Vancouver, from refinishing to cleaning and polishing.
Linoleum floor cleaning: Linoleum is one of those floor surfaces that loses its lustre from extensive foot traffic. The Cleaning4U staff can polish your linoleum floor so that it looks as good as the day it was installed.
FLOOR CLEANING SERVICES
Floors are tricky to maintain because the dirt and grime build up over time. It is hard to know when to take action when the build-up is gradual. We advise taking action at the first indication of dirt or discolouration. That way you have the ball rolling and avoid the risk of damaging the floor.
A maintenance schedule or routine is best. That way, you don't need to spend time paying attention to a floor, when you have more important matters to attend to.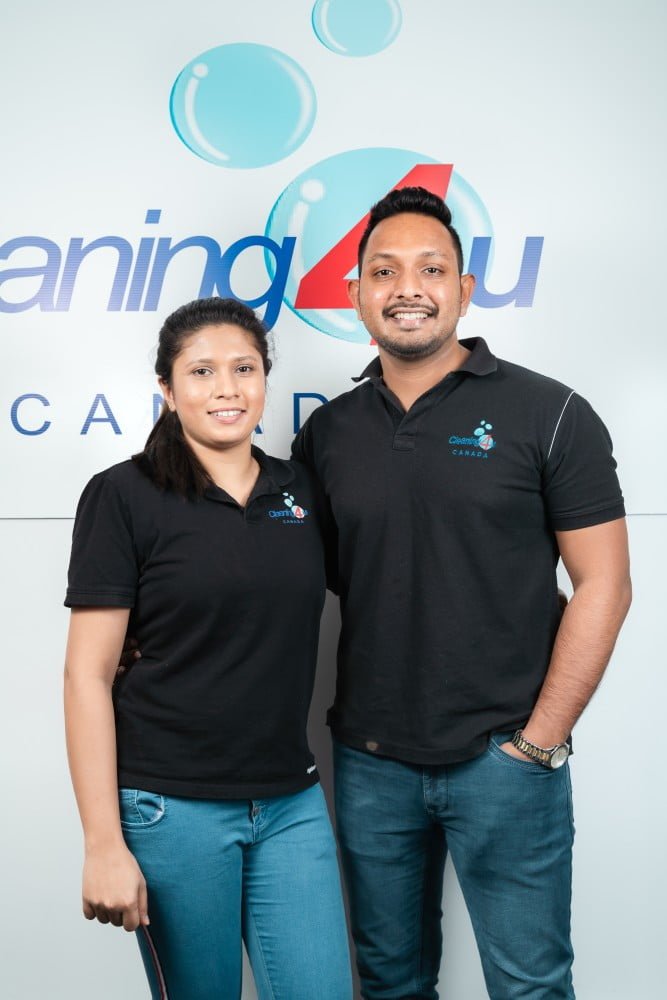 1000+
Cleaning Services in the Greater Vancouver Area
4.7/5
Average Review from our awesome customers
What are our clients saying about us:
Great service, the team were very punctual arriving before scheduled time. Very friendly and did an amazing job! Also very accommodating as I forgot to book in for the stairs to be cleaned and Sean was able to fit me in for the same day. I would definitely recommend this company. Very good value as well. I couldnt find a cheaper rate in all of Vancouver for the cleaning service we got done.
I have worked with Sean, the owner, through business before multiple times in the past. I have enjoyed working with him and now recently I used his company to clean the apartment I was leaving. I cannot speak more highly of his service and company. They did a great job and would recommend them to anyone.
We recommend Sean and the Cleaning4u team! We had them come and do a move out clean for us and we are very happy with their service! I found them online from reviews and they fully cleaned our condo, appliances and washed the carpets! It was nice dealing with only one company for that, especially since we were crunched for time and days before our move. Reasonable price and friendly team. We would highly recommend Cleaning4u! Thanks so much guys!
We've been so happy with the quality of all the cleaning4u cleaning crews we've had over the years. We had tried a number of other services in the past but cleaning4u is the most affordable and reliable around. I recommend this company wholeheartedly!
RESIDENTIAL AND COMMERCIAL CLEANING SERVICES